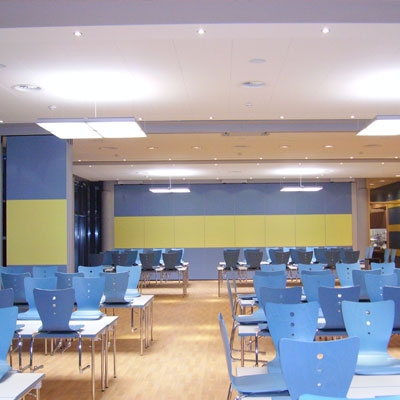 [ngg_images gallery_ids="16″ exclusions="65″ display_type="photocrati-nextgen_basic_thumbnails" class='ngg_lightbox']
In schools, space management and the ability to divide rooms for multi-purposes is paramount. We provide a perfect system of aluminium tracks that can be combined with freely selectable ceiling support sections and enables panel weights up to 680 KG. Special structurally tested suspension constructions for the track system ensure a high level of safety.
The combination of ball-bearing supported castors and high-quality, abrasion-proof plastic material guarantees an operational performance of more than 160 km. This corresponds to a service life of over 30 years at several operation cycles per day. This ergonomically-friendly system enables teachers and staff to operate the walls with ease. Aspect Systems have installed many doors over the years and the proven quality of both the product and installation, along with our after-sales service, make Aspect and HUFCOR® the popular choice of school principals and architects alike.
A HUFCOR® moveable wall is a must in all schools and colleges
Folding Walls
Glass Wall – G3000
Glass Wall – moViSTA
Accordion Doors
Summit Vertical Lift
Service